Renewable Energy and Energy Efficiency System and Concepts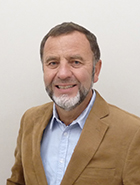 Dr. - Ing. Volkhard Scholz
CURRENT POSITION
Volkhard Scholz works on agricultural engineering research at ATB Potsdam-Bornim. For the last 20 years, he has worked predominantly in the area of renewable energy in rural areas. He holds degrees in Mechanical Engineering, Tropical Agriculture and a PhD in Engineering Sciences.
PROFESSIONAL EXPERIENCE
He has specialized in sustainable production and the use of bioenergy sources such as energy crops, biogas and other biofuel and has managed projects in research and in industrial practice and published about 100 articles in journals and books.
EDUCATION
Aside from his R&D activities, he continues to work as consultant and lecturer in more than 10 different countries. In the last few years, he has delivered lecture series in renewable energy at universities in Germany, Nigeria, Brazil and Costa Rica.
Energy Policy and Economic Framework
Toby Couture
CURRENT POSITION
Toby Couture is Director of Renewable Energy at E3 Analytics, an international energy consultancy based in Berlin, Germany.
PROFESSIONAL EXPERIENCE
Toby Couture has over a decade of experience in the renewable energy and energy efficiency sectors and has advised senior policymakers and regulators in over thirty countries around the world. This includes a number of projects with leading international organizations, including ECREEE, IRENA, GIZ, the IFC, UNDP, and UNIDO.
EDUCATION
Mr. Couture is a native speaker of both French and English, is semi-fluent in Spanish and German and has varying levels of fluency in Greek and Swahili. He is a previous recipient of the Fulbright Scholarship, has studied renewable energy finance in France, has a Master's degree in Environmental Policy from the University of Moncton in Canada, as well as an MSc. in Financial and Commercial Regulation from the London School of Economics in the UK.
Prof. Dr. Hans Schmitz
CURRENT POSITION
Hans Schmitz is Professor for Management Accounting and Management Control at Berliner Hochschule für Technik (BHT) (Germany). Because of his expertise in different aspects of e-learning, he is a member of the e-learning team at (BHT) and manages an online bachelor degree program "industrial engineering". His research interests focus on behavioral aspects of management accounting and the design of accounting information systems. He has (co-)authored textbooks and academic articles on these topics.
PROFESSIONAL EXPERIENCE
Prior to his present position he worked for the University of Mannheim and Technische Universität Berlin in Germany. He has been teaching management accounting and management control courses on bachelor and master level and in professional training courses.
Hans Schmitz gained industry experience from several consulting projects dealing with the design of management accounting systems and the implementation of IT-systems for accounting.
EDUCATION
Hans Schmitz holds a PhD in Management Sciences of the University of Mannheim (Germany) and a degree as Industrial Engineer from Technische Universität Berlin (Germany). He received the postdoctoral lecture qualification (venia legendi) for business administration from the University of Mannheim.
International Business Law
Mr. Maximilian Feustel
CURRENT POSITION
Maximilian Feustel is a German-qualified lawyer specializing in project finance and renewable energy law. He is currently an in-house legal counsel at Global Tech I, a 400 MW wind farm in the North Sea. He advises the company on project financing and corporate law matters.
PROFESSIONAL EXPERIENCE
Before working for Global Tech I, Maximilian Feustel was a partner at KEE, a law firm specializing in renewable energy law, where he provided legal advice to a wide range of clients in the renewable energy sector concerning the planning, construction, operation and financing of renewable energy projects as well as the sale and purchase of such projects. Before establishing KEE as a founding Partner in 2010, Maximilian Feustel worked for an international law firm, focusing on international project finance transactions.
EDUCATION
He was admitted to the German bar in 2005. He holds an LL.M. degree from Maastricht University (Netherlands) after completing the University's Magister Iuirs Communis program on European, comparative and international law. He studied law at Heidelberg University (Germany).
Prof. Dr. Andreas Taschner
CURRENT POSITION
Andreas Taschner is Professor for Management Accounting at ESB Business School of Reutlingen University (Germany). He also serves as Dean of Studies of ESB Business School.
PROFESSIONAL EXPERIENCE
Prior to his present position he was Professor at Berliner Hochschule für Technik (BHT). His major teaching and research interests are Management Accounting (with particular focus on SMEs and on supply chains), management reporting and business cases / investment appraisal techniques (with a focus on renewable energies). He has authored various books and scholarly articles in this field.
Andreas Taschner has more than ten year of industry experience. He has held various functions in the telecommunications industry and was department head with responsibility for management accounting, cost control management control systems for business unit "services" in a German manufacturing company.
EDUCATION
Andreas Taschner holds a PhD in Management Sciences of Wirtschaftsuniversität Wien (Austria) and has spent part of his studies at University of Illinois at Urbana-Champaign (USA).
Dr. A. J. Gilbert Silvius
CURRENT POSITION
A. J. Gilbert Silvius is professor of project and programme management at LOI University of Applied Sciences and principal consultant at Van Aetsveld change and project management. He is an internationally experienced consultant/trainer in project management and member of the international enable2change network of project management experts. As a practitioner, he has over 20 years hands-on experience in organizational change and IT projects.
PROFESSIONAL EXPERIENCE
Dr. A. J. Gilbert Silvius is considered one of the leading experts in the field of sustainability in project management, with over a dozen papers and several books published on the topic. He was awarded the 2013 Sustainability Award of the international Green Project Management organization.
EDUCATION
He holds a PhD in information sciences from Utrecht University and master degrees in economics and business administration.
Marketing Analysis and Instruments
Dr. Pascal Vuichard
CURRENT POSITION
Pascal Vuichard is an independent consultant for renewable energy and sustainability in Hong Kong and heads the executive education programme "Renewable Energy Management" at the University of St.Gallen. As of September 2021, he is an Adjunct Assistant Professor of Marketing at the Hong Kong University of Science and Technology.
PROFESSIONAL EXPERIENCE
Pascal has over seven years of project management and consulting experience in the field of renewable energy and sustainability and has advised policymakers, investors, and regulators in various countries around the world. Pascal has gained additional working experience in an international NGO and an international IT-company in Switzerland and has served as a member of state parliament as well as city government council in his home country of Switzerland.
EDUCATION
Pascal holds a PhD in Renewable Energy Management from the University of St.Gallen and is an alumni of the CEMS Master in International Management at the University of St.Gallen and the London School of Economics.
Human Resources and People Management
Ms. Katrin Huber
CURRENT POSITION
Katrin Huber is in charge of HR Development at DEA Deutsche Erdoel AG, an international exploration & production company for oil & gas with headquarters in Hamburg (Germany) and production facilities and concessions in Denmark, Egypt, Germany, Norway and the UK.
PROFESSIONAL EXPERIENCE
Katrin Huber has worked in the field of HR Management and People Development for more than 15 years. She started her professional career 1999 at Volkswagen, consulting as internal trainer and advisor on International Potential Analysis, Talent Management and Leadership Development for Volkswagen worldwide. From 2005-2006 she was in charge of HR Management at Autostadt GmbH before joining RWE Group in 2006, one of Europe's five leading electricity and gas companies. She was heading the HR and Organisational Development department of RWE´s Supply&Trading organization before moving to her current position at DEA in 2011.
EDUCATION
Katrin Huber is a graduated Industrial Psychologist and studied in Gießen, Köln and Aachen (Germany). Furthermore she holds a Master of Science degree in Coaching & Consulting Change of Oxford Said Business School (UK) & HEC Paris (France). She is a certified trainer (Diploma of Trainer Academy Munich, Germany) and coach in Transactional Analysis.
Dr. Michael Müller
CURRENT POSITION
Michael Mueller teaches business administration and management at the Berliner Hochschule für Technik (BHT) since April 2023.
PROFESSIONAL EXPERIENCE
Michael gained 22 years of professional experience and management expertise in the BASF Group – the biggest chemical company in the world – and in management consulting with Horváth. He worked with more than 25 mid-sized companies and large corporations in various industries on challenges in business transformation, strategic controlling and international project management. Michael lived and worked in Europe, USA and Russia. In his last position before his professorship Michael led as Vice President an interdisciplinary team dealing with the strategic, financial and contractual matters of the natural gas transportation business within BASF.
Michael has been engaged as speaker and lecturer on international conferences (Frankfurt, Zurich, Philadelphia, Charleston, Detroit etc.) on various management topics (strategic, financial, processes & organization). He is the author of numerous professional publications.
EDUCATION
Michael holds a doctoral degree in Industrial Management (Dr. rer. pol.) from European Business School, Oestrich-Winkel (Germany). He studied Industrial Engineering at Technical University of Berlin (Germany) and University of California at Berkeley, CA (USA).
Integrated Business Plan Development
Mr. Alexander Boensch
CURRENT POSITION
Mr. Boensch works as a corporate finance advisor in Neue Energie Gesellschaft Berlin mbH (NEG).
PROFESSIONAL EXPERIENCE
Since June 2008, Alexander Boensch has been consulting ENERTRAG Structured Finance AG, a wholly-owned subsidiary of ENERTRAG AG at Director's level being in charge of corporate finance, risk management, procurement of capital, financial modelling, bank marketing and M&A activities.
In 2003, Alexander Boensch started his own advisory business specializing in Project & Structured Finance consulting for renewable energy companies. In addition to his consulting work for wind energy industry clients, Alexander Boensch is member of the investment decision-making board of ENERTRAG EnergieZins GmbH, a well-established issuer of financial products exclusively based on claims on renewable energy assets.
EDUCATION
Mr. Boensch graduated from Berlin School of Economics and Law (HWR Berlin) and has completed a vocational training in the banking industry.
Advanced Research Methods
Prof. Dr. Peter Weimann
CURRENT POSITION
Prof. Dr. Peter Weimann is Professor for Information Systems at the Berliner Hochschule für Technik (BHT) in Berlin since 2006.
PROFESSIONAL EXPERIENCE
Prof. Dr. Peter Weimann worked in the industry and consulting business in different management positions for over 10 years. After being appointed Professor at the University of Cape Town and working in the Department of Infomration Systems he became Professor at the University of Applied Sciences in Aalen and thereafter at Berliner Hochschule für Technik. Peter Weimann has co-authored several textbooks and written research articles in the field of Information Systems, Business Engineering, Project Management and Health Management. His research topics are IS applications in hospitals, project management, virtual teams, research methods in sustainable and renewable energy studies.
EDUCATION
Prof. Dr. Peter Weimann graduated as a Master in Computer Science in Germany and completed his PhD at the University of Cape Town, South Africa.
Advanced Practical Renewable Energy and Energy Efficiency Implementation
Ms. Katie De Albuquerque
CURRENT POSITION
Katie De Albuquerque has been working as a trainer at RENAC since 2008. Her specialisations are solar thermal systems and small hydropower. She is responsible for developing training materials and delivering training courses to installers and engineers through to decision makers. Recently she has co-authored a study on quality standards and quality assurance mechanisms for RE/EE training programmes in the MENA region.
PROFESSIONAL EXPERIENCE
Ms. De Albuquerque worked at the Centre for Alternative Technology in Wales designing, installing and operating solar thermal systems and micro hydro systems as well as providing consultancy services and teaching on various Masters degree courses. Before this she worked for the building consultancy, Arup, as a building services engineer doing heating and ventilation system design. In between she has been involved in a development charity, working with street children in Kenya and has also been involved in a micro hydro project in Nepal.
EDUCATION
Ms. De Albuquerque studied Mechanical Engineering to Masters level at the University of Strathclyde in Glasgow, Scotland.
Alexander Haferland
CURRENT POSITION
Alexander Haferland works as Chief Technology Officer at urban energy GmbH. His core expertise lies in the areas of leadership, technology and innovation. Moreover, he is engaged academic research and digital innovation projects in the area of renewable energies, agriculture and archaeology.
PROFESSIONAL EXPERIENCE
Since 2005 Mr. Haferland has been working in project management and leadership positions across different industries. Within these roles he has been responsible for strategic and innovative projects in the areas of information technology, agile and lean management. Since 2012 Mr. Haferland is working in the energy sector on the grid integration of renewable energies as well as supporting clean tech startups.
EDUCATION
Mr. Haferland holds a Master of Business Administration (MBA) degree in Renewables and a Bachelor of Engineering (B.-Eng.) degree in Communication Systems.
Advanced Renewable Energy Technologies
Mr. Craig Wong
CURRENT POSITION
Craig is currently a project manager at PI Berlin (Photovoltaik Institut Berlin), which is a leading technical consultant for complex PV projects. PI's service portfolio includes project development, risk management and quality assurance for PV power plants and components. Internationally, PI is represented by subsidiaries in Germany, the USA, Spain, and China.
While on assignment with PI, Craig has led seven training weeks with the Federal Ministry for Economic Affairs and Energy, and the German Development Agency's Project Development Program. Trainings have taken place in Ghana, Kenya, Zambia, Botswana, Nigeria, Vietnam, and Cambodia.
PROFESSIONAL EXPERIENCE
Prior to working with PI, Craig worked in Biogas project development and sales with Weltec Biopower as Project Director in the Western US.
He teaches renewable energy technology for the Berliner Hochschule für Technik's MBA program, as well as their Masters degree in Energy and Resource Efficiency. Craig has also taught masters students at the University of Oldenburg (PPRE Program) in the renewable energy laboratory.
In a previous life, he has worked with Electric Vehicles, and with the design and manufacturing of sunglasses. He also lived in China for some time, during which he represented a Spanish company in a Chinese PV panel factory.
EDUCATION
Craig holds a master's degree in Renewable Energy Technologies from the University of Oldenburg in Germany, with a specialization in hybrid systems. His master's thesis was to evaluate the feasibility of a wind-pump-hydro storage system on the island of Gran Canaria. Originally from the US, Craig obtained his Bachelor's Degree in Mechanical Engineering from California Polytechnic University in San Luis Obispo, California.
Energy Management and Energy Efficiency
Mr. Carsten Ernst
CURRENT POSITION
Since Mai 2019, Carsten Ernst is self-employed and freelancer; his focus areas are sustainability (SDGs) & climate management and he develops climate/ CO2-strategies for small, medium and large companies; he manages several energy-efficiency networks on a national level and strategically consults companies supporting and maintaining energy management systems – with a focus on adequate monitoring and benchmarking.
PROFESSIONAL EXPERIENCE
From 1994 to 1998 he was Project Engineer and Partner for Syrius GmbH and Wega GmbH in Berlin; He developed mechanical services (heating, ventilation, incl. CHP) for mainly large domestic buildings.
From 1998 to 2004 he was Senior Consultant and Associate at BDSP Partnership in London; He worked as Design Team Coordinator and developed mechanical and environmental services for international building design projects (e.g. New National Assembly of Wales, Cardiff).
From 2004 to 2005 he was Project Manager for Mechanical & Environmental Services at Arup GmbH in Berlin; he developed building and environmental services for large scale developments (e.g. new development European Central Bank, Frankfurt).
From 2005 to 2007 he was also a Lecturer at the Technical College of Potsdam (FHP) for Building/ Environmental Services.
He worked as Principal Consultant, Partner and Head of Quality Assurance for ÖKOTEC Energiemanagement GmbH in Berlin between 2005 and 2019. His key areas were energy efficiency and energy management, research, conceptual energy design and low energy design for commercial/ industrial buildings, heating, ventilation, cooling energy, compressed air, combined heat and power. In the last years he supervised several national and international projects in the field of energy efficiency.
EDUCATION
Carsten Ernst holds a degree as Mechanical Engineer from the RWTH Aachen, Germany.