WELCOME TO MBA RENEWABLES
MBA Renewables is the first and only distance-learning MBA programme focusing on renewable energy and energy efficiency. This international online study programme has been jointly offered by Berliner Hochschule für Technik (BHT) and the Renewables Academy since 2011.
This part-time programme includes online modules as well as the opportunity to complete a Master's thesis over the course of 2.5 years. Join other professionals from all over the world in this programme and gain economic, technical, legal, political, and organisational expertise tailored to the specific needs of emerging renewable energy markets. This highly regarded MBA programme will help you to enhance your career prospects.
We offer two intakes per year, the summer semester begins in April and the fall semester begins in October.
The application deadline for the summer semester intake is 10 March 2024, while for the fall semester is 15 July 2024.
Applications are currently being accepted.

We also offer the following executive course starting 1 June 2024:
Entrepreneurship in the Green Energy Industry
---
Open Q&A Virtual Info Sessions
At the virtual informational session, you will learn more about the online study programme and the application process. Our team and a student of the programme will be happy to answer your questions.
The info sessions take place online on Thursday, 25 January 2024, Wednesday, 13 March 2024, and Wednesday, 12 June 2024 at 5 pm Berlin time.
The session will cover the following topics:
MBA Renewables at a glance: curriculum, semester structure
Online studies: modalities
Application process – authentication of application documents
Q&A with student, alumna and team
To register for this event please fill in our registration form here. You will receive the access information after the registration.
Our programme has been designed to meet the needs of students who are studying whilst working. It provides flexibility enabling students to decide when, where, and how to learn.
The MBA Renewables online study programme could be right for you. Download our guide to finding the right MBA, which covers important aspects to consider before enrolling in an MBA programme.
The study programme's online learning platform includes the following features and services:
learning materials for self-paced study

learning platform

live lectures

educational videos

collaborative tools

technical and organisational forums

guidelines for academic writing and collaboration

self-tests and completion status

mobile app
---
CAREER PROSPECTS AND INTERNATIONAL NETWORK
Our programme develops leaders with the interdisciplinary skills and insights needed for a successful career in the renewable energy sector.
The Foundation for International Business Administration Accreditation (FIBAA) highlighted that, "The content of the programme and the reachable learning outcomes are such that the students achieve employability above average."
As a student you will benefit from collaborating with peers from all over the world you will have opportunities to exchange technical know-how and experiences as a member of international teams. As part of case-based project work, you will further your understanding of the international dimension of climate change as a global challenge. To address this challenge, you will also learn how to systematically tackle complex economic, legal and political framework, and technological issues and find solutions.
The student and alumni network encourages members to discuss professional topics, such as job opportunities and the development of joint ideas or projects.
---
Jonquil Hackenberg, UK
"The on-campus time has been simply outstanding, and the energy from both lectures and students alike was second to none. I am both humbled and inspired by people's reasons for doing the MBA Renewables programme - here's to the future!"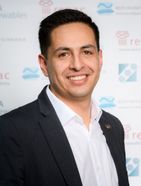 Nilson Olejua Ortiz, Colombia
"I've ever been passionate about the energy sector. This programme covers the most important topics of the sector and trends of the global energy change hand-in-hand with an experienced team with amazing background in the field."